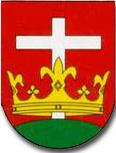 Alternate names: Korycin [Pol], Kartchin, קוריצין [Yid], Korytsin [Rus], Karitchin. Russian: Корыцин. 53°27' N, 23°06' E, 20 miles N of Białystok, 17 miles W of Sokółka. 1800 Jewish popuation: 127 Jews (80.4%). 1900 Jewish population: 411. Gmina Korycin is a rural administrative district in Sokółka County in NE Poland with its seat is the village of Korycin. The 2006 gmina total population was 3,524 and the village population of 530. Gmina Korycin contains the villages and settlements of Aulakowszczyzna, Białystoczek, Bombla, Borek, Brody, Czarlona, Długi Ług, Dzięciołówka, Gorszczyzna, Korycin, Krukowszczyzna, Kumiała, Laskowszczyzna, Łomy, Łosiniec, Mielewszczyzna, Mielniki, Nowinka, Olszynka, Ostra Góra, Popiołówka, Przesławka, Romaszkówka, Rudka, Rykaczewo, Skindzierz, Stok, Szaciłówka, Szumowo, Wojtachy, Wyłudki, Wyłudy, Wysiółki, Wysokie, Zabrodzie, Zagórze and Zakale. Photos. photos. Seven matzevot remain. Korycin was founded in 1634 year as a royal village.  In 1671,Korycin received city rights. The town was populated from the beginning in large part by Jews, but never was a large commercial or industrial center. 1900 was the peak population: 700 people, of which 400 were Jews. In the 19th century, the town was in the Russian zaborze with three annual fairs. Between 1897 and 1920 diminishing population demoted the town to a village. In 1939, the town was under Soviet occupation and attracted Jews fleeing the Germans. SOŁTYS Korycin tried to incite the population to organize a pogrom. Korycińscy Jews were sent to Kiełbasinie near Grodno and from there between September 10 and October 15, 1942 to Treblinka. The last rabbi was Chaim Mojzeson. [May 2009]
also used cemetery at Jasionowka and at Knyszyn. "The cemetery located in a village several kilometers from the town was intact and in the good care of a village woman." Source: Cohen, Chester G. "Jewish Cemeteries in Southern Poland" from `An Epilogue' in Shtetl Finder, 1980.
town website [August 2005]
US Commission No. POCE000116
Korycin is located in Bialystok at 53°27 23°06, 45km from Bialystok. Cemetery: in S of village by road to Krukowszczyzna. Present population is 1,000-5,000 people with no Jews.
Town: Urzad Gminy, Rynek 10, Knyszyn, Tel. 32.
Regional: Wojewodzki Konserwator Zabytkow, ul. Dojlidy Fabryczne 23 Bialystok, Tel. 41-23-32.

Interested: Ksiadz Kazmierz Karpienza, Parafia Katolicka w Korycine and, Bakun Wiktor, Grodzienska 1A, Korycin, Tel. 125 and Szmuel Goldberg, Ben-Gurion 6/7, Kfar Saba, Israel, Tel. 44-251.
Earliest known Jewish community was 17th century. 1921 Jewish population was 265. Living here was Rabbi Chaim Mojzeson. The cemetery was established in the 19th century with last known Progressive/Reform, Conservative, or Orthodox Jewish burial in 1942. Surrounding villages up to 10kms away used this cemetery. The isolated suburban flat land has no sign or marker. Reached by crossing private property; access is open with permission. No wall, fence, or gate surrounds. The approximate size of before WWII was 1.00 hectares. It is now 0.67 hectares. 1 and 20 gravestones, less than 25% toppled or broken, date from 1880-19th century. Removed stones during German occupation were incorporated into the Korycin-Jasionowka road. Vegetation overgrowth is a seasonal problem preventing access. The limestone, slate, and concrete stone have Hebrew inscriptions. The municipality owns site used for agriculture and waste dump. Properties adjacent are agricultural. The boundaries are smaller than in 1939 because of agriculture. The cemetery was vandalized during World War II and occasionally thereafter. No maintenance.
Tomasz Wisniewski, ul. Bema 95/99, Bialystok, Tel. 212-46 completed survey on 11/08/1991. He visited the site in 1989.
NOTE: In his book Jewish Bialystok, Wisniewski states on p. 84 that the Nazis "used the cemetery's stone wall" and gravestones to build the Korycin-Jasionowika road and plowed under the cemetery but "…several mazevas remain…"
[UPDATE] Construction completed in Korycin, Poland [December 2016]
Last Updated on Sunday, 25 December 2016 17:53