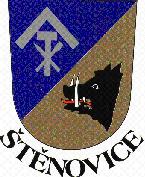 photo of cemetery [February 2009]
US Commission No. CZCE000404
Alternate German name: Stienowitz and Czech: Štěnovic. Stenovice is located in Bohemia-Plzen-jih (Pilsen-South) at 49º40 13º24, 8 km S of Plzen. Cemetery: 550 meters E of chateau and 700 meters NE of Catholic church. Present town population is 1,000-5,000 with no Jews.
Town: Obecni urad, 332 09 Stenovice; tel. 091/91-62-02.

Regional: Okresni Urad-Referat Kultury, Radobycicka 14, 317 07 Plzen and Jewish congregation: Zidovska Nabozenska Obec, Smetany sady 5, 301 37 Plzen; tel. 019/357-49 and Pamatkovy ustav, Dominikanska 4/6, 301 00 Plzen; tel. 019/376-78 or 358-71.

Interested: Statni Zidovske Muzeum, Jachymova 3, 110 01 Praha 1; tel. 02/231-06-34 or 231-07-85 and Okresni Muzeum (Director: Josef Kozeluh), 336 01 Blovice cp. 148; tel. 0185/2208 and Jiri Bednar, Dvorakova 47, 320 04 Plzen.

Earliest known Jewish community was second half of 18th century. 1930 Jewish population was 11. Peak Jewish population was mid-19th century with 32 families. Later, Jews moved to Plzen and other towns. Independent congregation disbanded after 1921. Birthplace of Louis Eduard Levy (1846-1919, Philadelphia), American astronomer, photographer, and author of photochemical reproduction of engravings called "Levotype"; father of Carlo Schanzer (1865-1953); and Italian Minister of Foreign Affairs. The Jewish cemetery originated before 1832 with last known Conservative Jewish burial in first third of 20th century. Buried in the cemetery are Ignac Lederer (19th century), collector of W -Bohemian folk legends, and ancestors of both L.E.Levy and C. Schanzer. Plzen, 8 km away, used this unlandmarked cemetery before 1856. The isolated suburban hillside has no sign or marker. Reached by turning directly off a public road, access is open to all via a continuous masonry wall and non-locking gate. The pre- and post-WWII size of cemetery is 0.1019 ha.
100-500 stones, all in original location, date from 1831-20th century. The marble, granite and sandstone flat shaped stones, finely smoothed and inscribed stones, double tombstones or multi-stone monuments have Hebrew, German and Czech inscriptions. Some tombstones have portraits on stones and/or metal fences around graves. The cemetery contains no known mass graves or special sections. Within the limits of the site is a pre-burial house, sold and rebuilt as weekend cottage. Plzen Jewish community owns the Jewish cemetery. Adjacent properties are agricultural. Occasionally, private visitors stop. Vandalism occurred after 1965. Jewish groups within country and abroad group of (15 persons with Rabbi Goldstein from Northwood and Pinner Liberal Synagogue in London) did restoration before 1985, 1991, and 1992. Now, there is occasional clearing or cleaning by individuals. Moderate threats: vegetation and vandalism. Slight threats: weather erosion and pollution.
Dr. Peter Braun, Komenskeho 43, 323 13 Plzen; tel. 019/52-15-58 and Rudolf Loewy, Jesenicka 33, 323 23 Plzen; tel. 019/52-06-84 and Jiri Fiedler, z"l, Brickova 1916, 155 00 Praha 5; tel. 02/55-33-40 completed survey on 2 September 1992. Documentation: censuses of 1724, 1921, and 1930; Hugo Gold: Die Juden und Judengemeinden Bohemens (1934); Jan Herman: Jewish Cemeteries of Bohemia and Moravia (1980); and 1966 research notes of Statni Zidovske Muzeum Praha. No site visits or interviews occurred.